AMERICA
William Shatner, 'Star Trek' icon, becomes oldest person to fly to space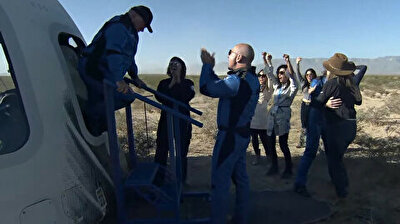 90-year-old Captain Kirk in awe after safe landing
News Service

14 OCTOBER 2021, 09:43

AA
William Shatner, who spent a career playing the high-flying space adventurer Captain Kirk on the Star Trek television series, finally went to space Wednesday and afterwards was almost speechless.
The 90-year-old Shatner emerged from the New Shepard space capsule in a rural part of the US state of Texas in awe of the brief time he spent above the Earth as part of the launch from billionaire Jeff Bezos' Blue Origin space company.
"Unbelievable, unbelievable," Shatner stammered, in between cheering and champagne-popping as he and his three fellow space travelers emerged from the capsule.
Cameras captured Shatner, now the oldest-ever space traveler, chatting with Bezos, who opened the capsule when it landed, talking in an amazed voice about what he just experienced.
"It's just extraordinary, extraordinary," Shatner said through tears, "I hope I never recover from this. I hope that I can maintain what I feel now. I don't want to lose it. It's so much larger than me, and life."
Before the launch, Shatner admitted that despite playing the iconic Captain Kirk in the television series and movies, he never actually had much desire to travel to space. He referred to the space travel training he received in recent weeks as "rehearsals," as if preparing for an acting role.
He also admitted to being more than a little nervous about the flight.
But he was awe-struck as he chatted with Bezos afterward.
"This comforter of blue that we have around us," Shatner said of the blue sky, "We think, 'oh, that's the blue sky.' And then suddenly you shoot through it and all of a sudden, it's as though you rip off a sheet when you're asleep and you're into ugly blackness … there is mother Earth and comfort (below), and is there death? I don't know."
Shatner made the roughly 10-minute journey with two paying customers, Chris Boshuizen, founder of Earth-observation company Planet Labs, and the first Australian to fly into space, and microbiologist Glen de Vries, along with and Blue Origin executive Audrey Powers.
The flight had been delayed by one day because of windy conditions at the launch site.
It was the second successful civilian-manned blast-off for Blue Origin, after the inaugural flight in July, that Bezos flew in.
As with that flight, the Blue Origin rocket sent the New Shepard space capsule just over the official boundary of space, the Karman line, at 100 kilometers (62 miles) above sea level.
From there, the crew had a view of space before the capsule glided to earth by parachute into West Texas shrub country.
Bezos is in fierce competition with fellow billionaires Richard Branson and Elon Musk to corner the market on emerging space tourism, to make it as affordable and common-place for future generations as airline travel.
In an interview last week, Shatner recalled watching the first-ever moon landing in 1969, and feeling depressed because his original 'Star Trek' series had just been canceled.
But the series came roaring back in re-runs and in movies, just as Shatner's spirits were equally lifted Wednesday.
"It was so moving to me," he said. "I am overwhelmed. I had no idea."
William Shatner

space

Texas